Two platforms.
As a customer, you can choose a body either in lightweight steel or in ultralight carbon fiber. We make minor design improvements to refine some original factory imperfections. Materials and surfaces are chosen, treated and combined by the best professionals in Sweden.
This is how you start the next project.
You begin by announcing your interest by sending your request to us.
A draft proposal is formed during a meeting on site or online. A time frame and budget is set and a booking fee of Euro 5,000 is paid to secure your project slot. We then source a registered and functional 1961-1973 Volvo P1800 as a basis for the restoration and varying degrees of modification. When the work is complete, the car retains its Vehicle Identification Number (VIN), odometer reading and is legally registered and licensed.
The Bodywork
Your car is comprehensively disassembled and all parts of the bodywork to be replaced are removed from the car. The basic structure (monocoque / unibody) is cleaned to bare metal, normally by acid dipping. All panels affected by rust are replaced. The complete basic structure is then treated for rust prevention and noise reduction, and painted with the same finish inside and out.The basic structure receives additional welding, strengthening and fabrication in preparation for its new bodywork. A discreet roll cage in high-strength racing metal is integrated and can be covered in the same leather or fabric as in the interior.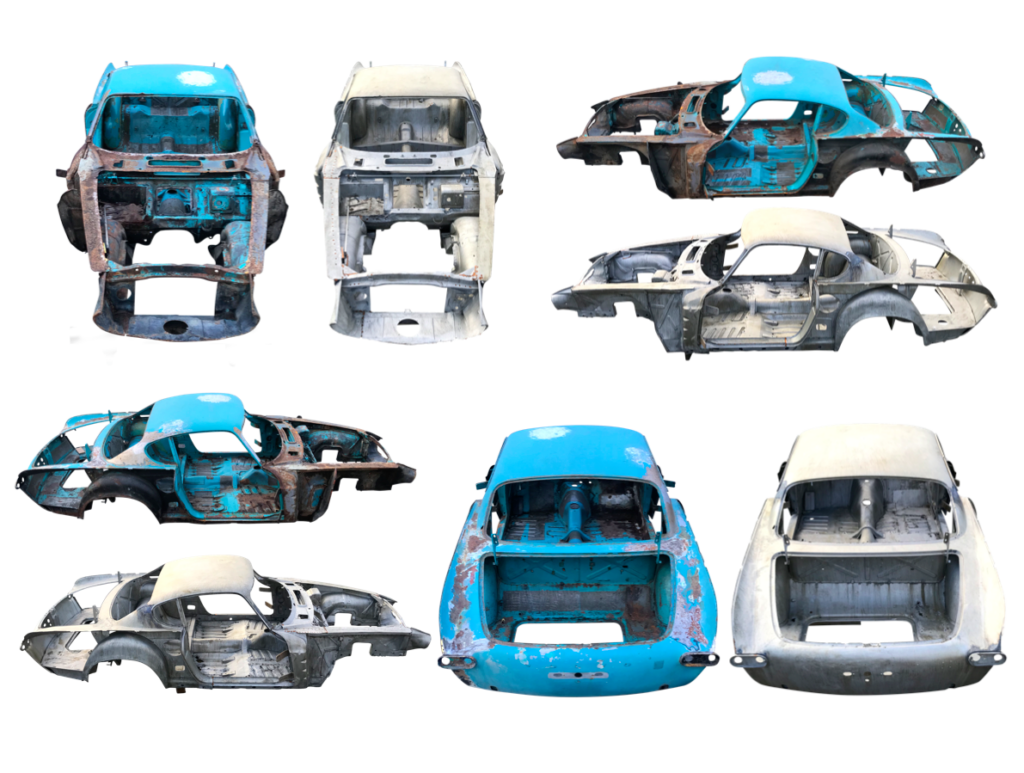 Aerodynamics and Carbon Fiber technology.
The carbon fiber bodywork is constructed from premium pre-preg carbon fiber and is vacuum bagged. These are true carbon fiber parts made to motorsport specifications, benefiting from extreme strength and low weight.
Panels replaced with carbon fiber parts:
• Complete front with fenders and nose.
• Hood.
• Rear fenders.
• Doors (optional)
• Shortened trunk lid (when optional rear wing is specified)
Improved aerodynamic body parts in carbon fiber:
• Front spoiler with air splitter – (with a flirt to the early Volvo P1800 bumpers).
• Speed-sensitive, active rear wing / air brake / gun shoot protection.
• Rear diffuser.
• Side skirts – (with a flirt to the original side rubber stone chip protection).
Chassis.
The P1800 SAINT chassis is developed for maximum driving pleasure with modern Gran Turismo performance, without being extreme.
Suspension:
The suspensions is fully independent with double wishbones, both front and rear. It's specially developed to obtain the most precise dynamics within the geometry of a Volvo P1800. It includes visible push rod technology with adjustable road & track coil-over dampers from the world famous Swedish manufacturer – Öhlins.
Brakes and Steering:
To optimise brake performance and low unsprung weight, special lightweight aluminum MMC (Metal Matrix Composite) brake discs are developed for the P1800 SAINT. The result is a 50% lighter brake disc than a cast iron equivalent! The unique Swedish SiCAlight disc, is a disc with an optimised combination of silicon carbides and aluminum, resulting in a safe and lightweight braking system, which reduces energy consumption and increases range. The dimensions used are 330mm front and 320mm rear. The four-piston racing brake calipers, both front and rear, have specially developed pads for these innovative discs.
Also, Anti-Lock Brakes (ABS) are added to meet the expectations from most modern drivers. During performance driving, the ABS can be shut off by selecting "chase mode". The speed sensitive and adjustable power steering is well tuned to bless you as a driver and your experience behind the steering wheel.
Engines:
Our engines are based on proven Volvo Racing Technology. They are completely disassembled then meticulously blueprinted, balanced and hand-assembled using new or state-of-the-art components. You have a choice of three alternative engines, each with a unique output and character, designed to match the dynamics of the car.
Nostalgic aspirated carburetor engine 4-cylinder, 150+ horsepower engine. The nostalgic engine is comprehensively rebuilt and blueprinted for maximum efficiency. It retains the standard analog engine management system. A sport exhaust system in stainless steel is added

Fuel-injected performance engine. 5-cylinder fuel-injected lightweight aluminum 2.4-liter engine. A high-revving engine with 250+ horsepower. Sport exhaust system in stainless steel.

Turbo-charged modern high performance engine. 5-cylinder, fuel-injected and turbo-charged lightweight aluminum 2.4-liter engine. Maximum horsepower is more than enough… (intended for off-road use only in certain territories).
Exhaust
Optimized lightweight stainless steel headers are tailored for the power characteristics of the uprated engines, with benefits in throttle response, torque distribution, and top-end power. The exhaust system retains heat exchangers, and can accommodate catalytic converters if required. It mates to a lightweight stainless steel muffler with twin center tailpipes, optimised for both sound and power characteristics. The entire system can be delivered ceramic coated or polished, with specially designed tailpipes.
Transmission
A manual stick shift transmission is available for all engine specifications.
In addition, a 7-speed paddle shift dual clutch transmission (DCT) is available for the two alternative performance engines.
Our transmissions are comprehensively stripped and rebuilt to exacting tolerances with new components.

The ratios chosen for each engine configuration offer an excellent balance between performance, refinement and touring economy.

An electronically controlled Anti Slip Rear traction system (ASR) is used. Selecting "chase mode" turns the ASR and ABS off.

A Gripper limited slip differential is fitted. It allows torque to be transferred to the slipping/spinning wheel, thus increasing traction and corner exit speed. This is a huge benefit to the discerning fast road & track driver. This differential uses the well proven multi-plate principle but is different from other multi-plate differentials in that it is designed to be more progressive in action and minimise torque steer.
As a driving connoisseur you understand that all these technologies will guarantee top-of-the-line vehicle dynamics for the P1800 SAINT.
Colors
Our design team has meticulously researched and blended 14 different colors, which we feel complement the classic curves of the P1800 SAINT and recall some of the vivid hues pioneered in the 1960s and '70s. These are all available at no extra charge. We use only the finest color-bases and clear-coats, ensuring a beautiful and durable finish.
Wheels
The P1800 SAINT is equipped with unique, newly designed and specially developed 17'' lightweight aluminum wheels. These are all inspired by Volvo classic designs and recall the racing machines of the 1960s and '70s.

The official launch rim for the P1800 SAINT is "Lucky 7" and can be ordered in four custom designs

.

Wheel sizes: 7"x17'' front and 8"x17'' rear.

Wheels can be specified in a number of special nickel-plated, anodized or painted finishes. Tire sizes are 225/45×17 front and 235/40×17 rear.

A road-legal performance, track-based R Compound tire can be specified at no extra cost. These tires are designed for ultimate performance in dry and damp conditions and not recommended for use in rain or standing water.

Customers can specify an additional set of wheels in any finish fitted with the track-based tires. This option is for owners who drive their cars regularly on the road but also need a practical and easily accessed wheel / tire combination for track use
---
Interior.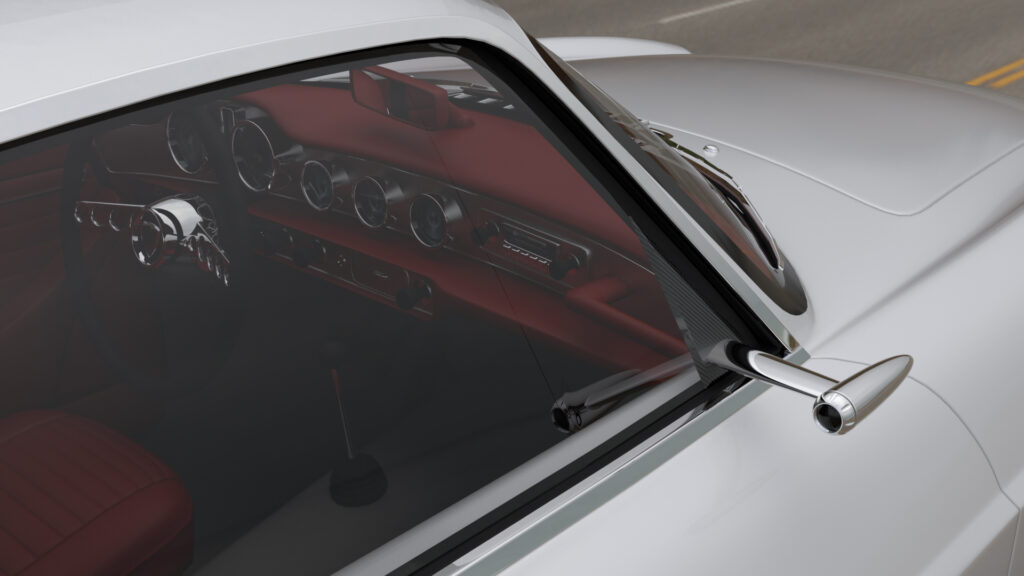 This interior design can be personalized in a number of ways by the selection of optional materials and fittings. These items can alter the character of the interior towards a luxury or sporting style, or indeed any combination of the two.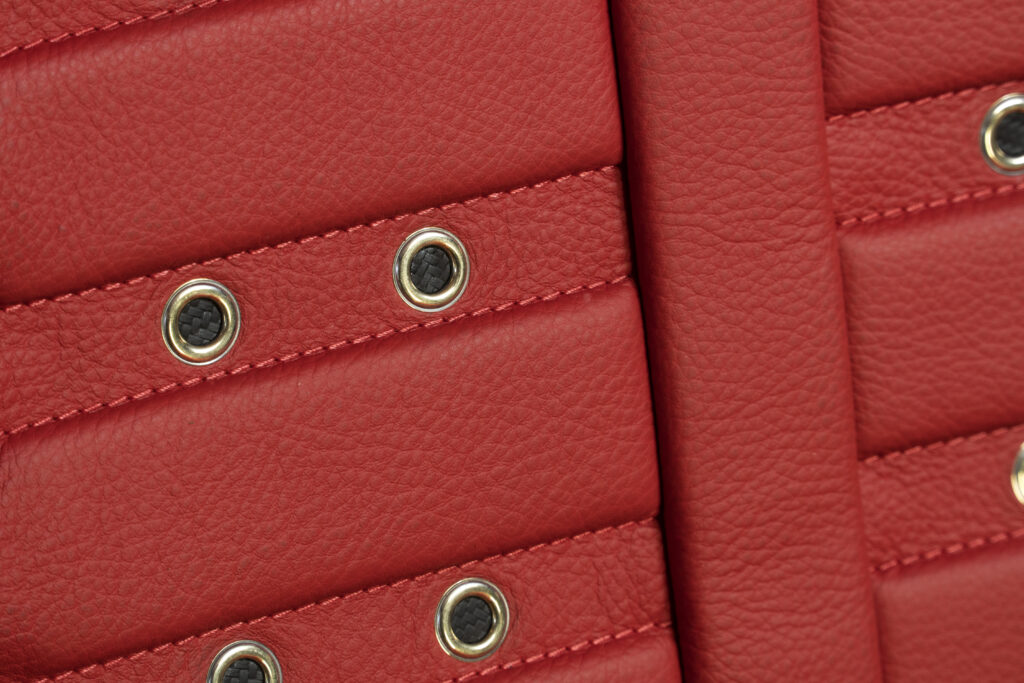 2+2 Seating.
Our standard carbon fiber sports bucket seats are created to recall the low backed bucket seats of the 1960s.

The backside of the front seats have visible carbon fiber.

The front seats have manual height and length adjustment, as well as a tilt function, and allow headroom also for taller people.

The front seats come fitted with adjustable headrests.

We have created a seat that is both supremely comfortable and supportive, while offering the peak of period sporting elegance.

The front seats are compatible for use with either the standard seatbelts or the optional racing harnesses.

The front seats come upholstered in leather or in leather with a combination of Alcantara or fabric. There is a wide choice of colors and optional finishes and textures.

The rear integrated bucket seats are upholstered in the same manner as those in the front
Panels.
The original basic design of Volvo P1800 panels is maintained. More exclusive materials such as leather or technical fabrics are used to match the rest of the interior. Certain parts can be optionally ordered with visible carbon fiber.
Steering wheel and steering.
The design of the early Volvo P1800 two spoke steering wheel is just too pretty to change. To achieve a modern sense of performance driving – the P1800 SAINT has a refined version with the same basic design.The steering wheel is attached to an adjustable steering column. There is a choice of two steering wheels:.
A two spoke version that looks the same as the original but is slighter smaller in diameter and has a thicker, but still neat, 25mm rim covered in leather or alcantara.

A three spoke version that is a cousin to the two spoke design, but with a smaller 13,5 inch diameter and a thicker rim.
Both designs work perfectly with the adjustable and speed sensitive power steering, specially developed for the SAINT. Both can be ordered in leather or suede with contrast stitching.
Gauges and Dash.
The original dash and gauges of the early Volvo P1800 probably represent one of the most sofisticated interior designs for a sports car ever. It shows class and a clean, graceful Swedish design. The beautiful gauges are reminiscent of exclusive designs from the most exclusive watch makers. The P1800 SAINT has preserved the main dashboard design, only using more exclusive materials for the surfaces and more modern technology for the gauges. All three rear-view mirrors operate through digital camera technology.
Optional Audio system.
The exclusive retro design audio system is specially-developed for the P1800 SAINT. It has all the modern features you need, such as DAB radio and Bluetooth© for streaming music. The audio system includes a subwoofer and six speakers.
Optional Air conditioning.
A specially designed air conditioning system has been developed with the basic design close to the original optional air-co.